ENGLISH
ESPAÑOL
PROVITA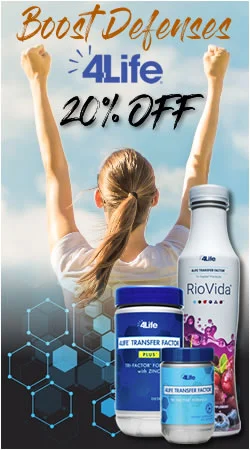 VariZapper 2.0
The Zapper is an electronic device invented by Dr. Clark.
It kills parasites, bacteria, viruses, molds and fungi electrically. Viruses and bacteria disappear in three minutes; tapeworm stages, flukes, roundworms in five; and mites in seven. A battery-operated, positive offset with a very low voltage from 5 to 10 volts is sufficient. It kills parasites and bacteria wherever the current reaches them.
The VariZapper 2.0 comes in a padded hard-shell plastic case complete with all the accessories you need to get started (cable, wristbands, rechargeable battery module, 2 pairs of gel electrodes). The VariZapper 2.0 has 3 standard programs: regular zapping (7-20-7-20-7 min), duration zapping (60min non-stop zapping), zappicator function (groceries zapping/zappicator board needed). For other frequency programs, simply stick in a pre programmed Program Driver Card and press start.
The parasite zapper, VariZapper 2.0, is built according to European medical devices standards, Class IIa. It complies with all technical requirements for medical devices for Europe, Canada and the US and is certified to that effect. It is however not a medical device in the US and Canada and cannot be recommended for any medical purposes in those countries. The unit carries a two-year warranty.
VariZapper 2.0 New Deluxe Features:
NEW - larger LCD Display with better resolution that shows frequency, program steps, voltage, battery charge & remaining time.
NEW – VariCharger Module which is a rechargeable battery. No need for 9 V batteries anymore.
Program Driver - can run an entire healing program with up to 16 frequency steps. (not included with purchase)
NEW – Program Drivers can be bought now on Dr. Clark's app. You will need an android phone for doing this.
Generates the 1000 Hz., frequency for the Dr. Clark food zappicator.
Residual voltage of 0.25 volts as per Dr. Hulda Clark.
NEW – The rechargeable battery lets you know when it is low so you won't stop a zapping session due to the low battery.
Positive-offset square waves with fast rise time for rich harmonics.
Super-stabilized wave remains stable under load.
Super comfortable stretch wrist bands.
Latest generation electrical materials that ensure greater precision in therapy.
Special function continuous run duration zap.
Easy to operate controls.
Every unit is individually tested for quality control.
Built under International medical device standards.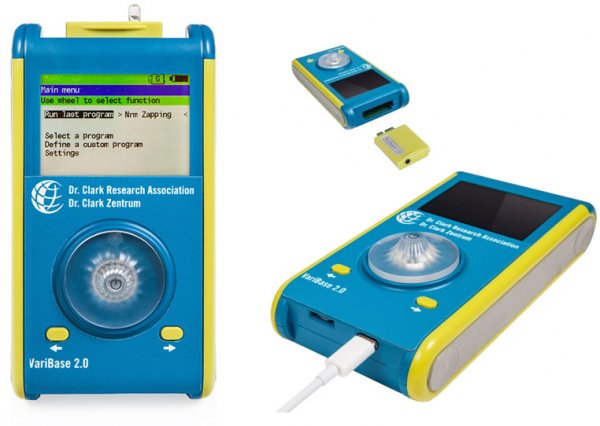 Modular Design
When you buy a VariZapper 2.0, what looks just like one unit really consists of two parts: the VariBase and the VariZapper Module. Just replace the VariZapper Module with the VariGamma Module to turn your Zapper into a frequency generator or vice versa!
A Versatile Unit That Grows With You
Thanks to the modular design, this unit leaves you all options. Upgrade your Zapper to a Frequency Generator whenever you want to, without the need to buy a whole new unit - which is also more cost effective. You can add any future units of the VariFamily whenever you need them.
Use or Make Program Driver Cards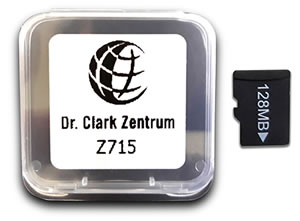 Program Driver Cards contain pre-programmed sequences of targeted frequencies according to Dr. Clark's frequency list. Simply plug them into your VariZapper and start! No programming necessary! Use the same Program Driver Cards on your VariGamma 2.0, or generate your own user programs that can be used both on your VariZapper 2.0 or VariGamma Generator 2.0.
VariZapper 2.0 Technical Data:
Bio Frequency Generator with one output channel and constant voltage characteristic. The device comes with 3 standard programs. Program Driver Cards may be used for other programs.
Output voltage: 0.1-15 V (without load).
Frequency range: 1-1.000.000 Hz (±100 ppm).
Wave forms: Sine or Square.
Wobble time: 1-120 sec.
Offset voltage: 0.0-0.25 V.
Charging rate: ca. 60 mA.
Voltage source: 9 V Block battery.
Dimensions: 15 x 8 x 3 cm (ca. 6 x 3½ x 1¼ inches).
Weight: 300 g (10oz.) (incl. Battery).
Each unit is individually checked for Quality Control before it leaves the factory.
Find here more information about VariZapper 2.0
We also recommend these products: